About Sri Sakthi Educational Trust
Sri Sakthi Educational Trust (SSET) was established in 1997 as Educational Trust by our Board of Trustees.
Sri Sakthi Educational Trust Successfully runs 3 Institutions, Bharathiyar Arts and Science college for women, Bharathiyar College of Education and Bharathiyar Institute of Engineering for women. Our Bharathiyar Educational Institutions making a significant contribution to the society. The aim is to impart high quality Teacher Education to the rural youth and to promote their living standards.
This young and vibrant Institution focuses on quality Teacher Education and a spirit of innovation along with holistic personality development. These shape the students as a confident personality with a positive attitude to take on the challenges of the modern workplace.
Sri Sakthi Educational Trust with its motto 'Discipline, Education & Progress' imparts value-based education.
| | | |
| --- | --- | --- |
| S.NO | NAME | DESIGNATION |
| 1 | Mr.S Leelavathi Elayappan | Chair Person |
| 2 | MR.Ramkumar Ramasamy | Secretary |
| 3 | Mr.Selvamani Rangasamy | Treasurer |
| 4 | Mr.Elayaraja Ilavarasu | Vice-Chairman |
| 5 | Mr.Periyasamy Ramalingam | Vice-Chairman |
| 6 | Mr.Arivazhagan Shanmugam | Joint Secretary |
| 7 | Mr.Paramasivam Athiyappan | Joint Secretary |
| 8 | Mr.Manikandan Venkatachalam | Joint Secretary |
| 9 | Mr.Kulandhaivel Ramasamy | Joint Treasurer |
| 10 | Mr.Vetrivel Shanmugam | Director, Public Relations |
| 11 | Mrs.Sakthi Elayappan | Director, Public Relations |
| 12 | Mr.Prakadeesh Kumar Suriyaprakasam | Director |
| 13 | Mr.Sakthiniresh Sivaprakasam | Director |
| 14 | Mrs.Geethanjali Venkatachalam | Director |
| 15 | Mr.Kailasam Sabapathi | Director |
MR.S. ELAYAPPAN., B.Sc.,B.Ed.,
CHAIRMAN
I am delighted to welcome you to the Bharathiyar College of Education website. I hope to convey the passion and enthusiasm that both staff and students bring to all that they do here, making our Bharathiyar College of Education such a wonderful place to learn.
Bharathiyar College is a friendly, vibrant and highly motivated community that enjoys the reputation of being one of the most respected and admired institution in Salem district. Renowned for inclusivity and an ability to educate the whole person – 'head, heart and soul' – we understand that the education of young people is not only a responsibility but a privilege.
Bharathiyar College is committed to employing, developing and retaining the very best teachers. We describe ourselves as a learning community because we believe that we are all learners – teachers, students and parents – learning from and with each other. We describe ourselves as a community in which parents, teachers and support staff work in partnership with each other to advance the learning and growth of the students.
To achieve our mission and vision we will continue to develop and grow leaders in our College community. We believe that leaders are required to:
Challenge the process by facilitating change that moves towards opportunities
Inspire a shared vision by committing and engaging others
Enable others to act by building trust that leads to serving others
Model the way by establishing unity through setting an example
Encourage the heart by acknowledging success and celebrating it.
As the Secretary of Bharathiyar College of Education, I look back with enormous sense of pride, the amazing progress that our institution has made within a short span of time. This would not have been possible without the invaluable support and contribution of the faculties, Students community, parents and my well-wishers. I strongly believe that serious, sincere and systematic services, surely secure supreme success.
Choices! You think about it and you realize it is not so simple. In Fact, it decides the course of your life or rather; it can make or break your life. Whatever your parents have told you, whatever your teachers have taught you, whatever you have comprehended from your surroundings, you should incorporate everything in your life with reality. Don't forget your goal. You are here to get educated, to make a career, and most important of all, to make yourself a wholesome human being. Remember, you are the ambassadors of your home, your family, your college and your country. We, do not create just sensitive intellectuals, but mould our students as complete men and women. We instill values of life in them and let them out as Noble Citizens, this makes our College unique. We would be grateful if the viewers could keep in mind that.

Thank U! All the Best
DR.A.K.RAMASAMY,
SECRETARY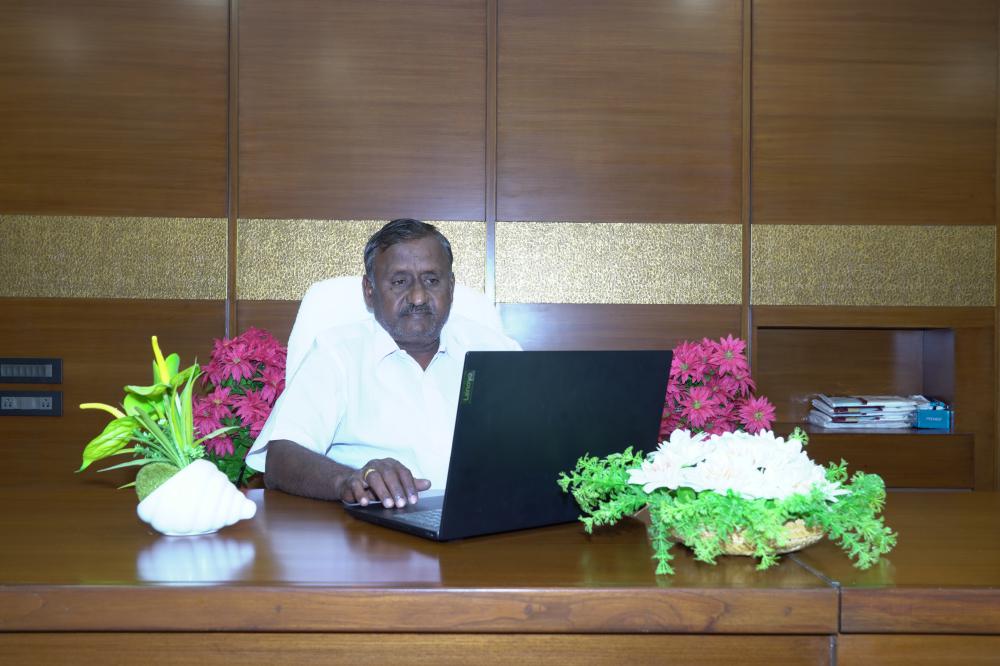 MR.S.R.T.SELVAMANI,
TREASURER
The true recognition of any academic institution depends on the quality of education and overall development of student's personality. The Trust provides rich and peaceful environment which encourages students to participate in the personality and the language skill development programmes conducted by the college. We place special emphasis on quality education. At Bharathiyar College of Education, we will seek to accomplish our objective of providing quality education while continuously improving the teaching and learning process. Towards the end I would like to say that education is for fostering people, which is same as the building the future. Towards the end I would like to say that education is for fostering people, which is same as the building the future. 
I wish and pray that everyday be a special day for all students who enter the Temple of Learning "Bharathiyar College of Education".